Products and Sales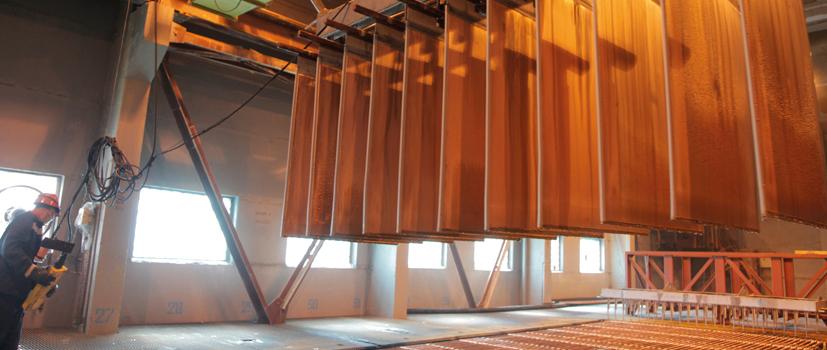 Norilsk Nickel operates its own global sales network covering all major markets, including Russia, Europe, the US and Asia Pacific.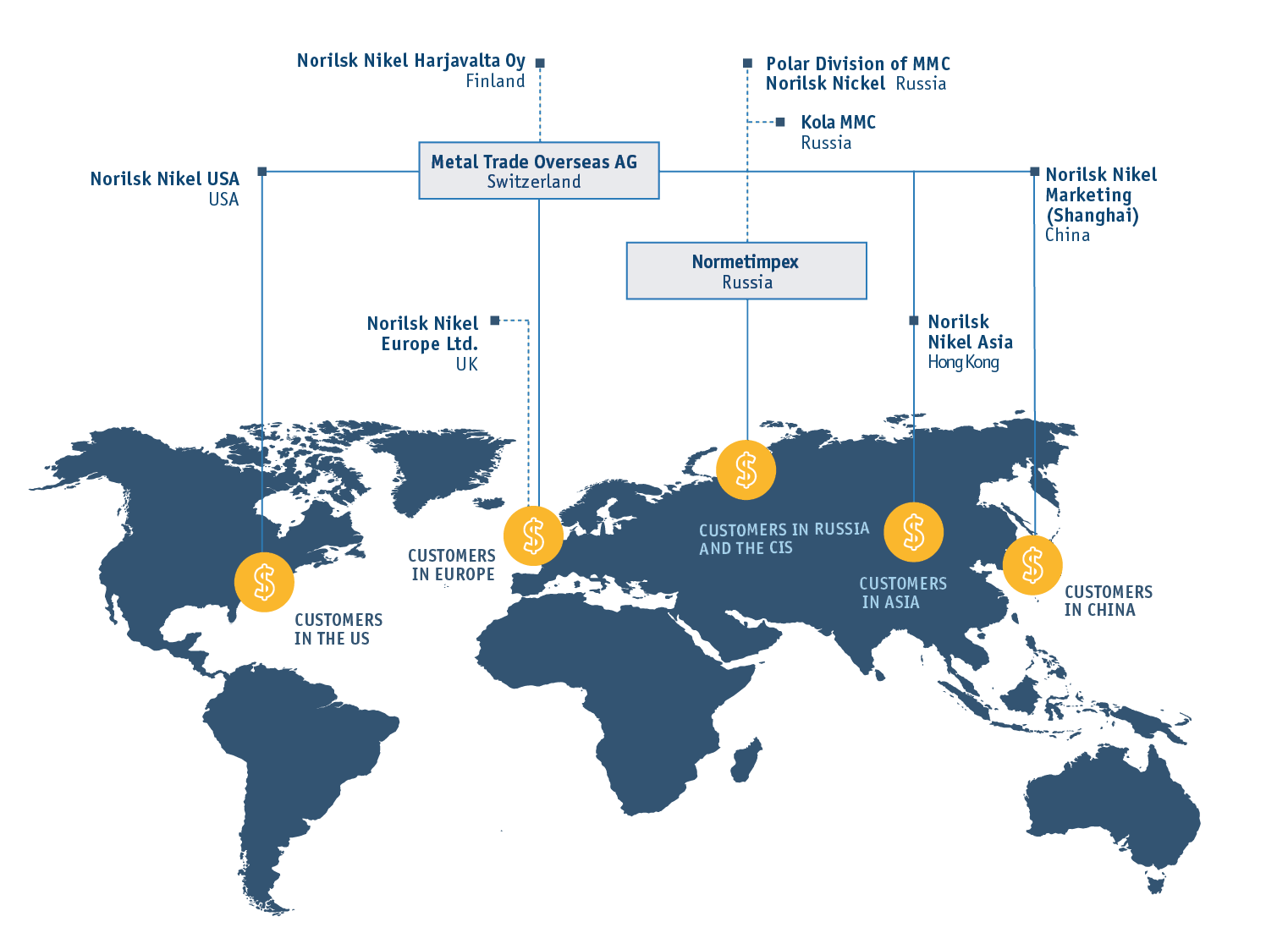 Sales footprint


33
countries
Number of sales contracts


1,500
Sales, along with production, is a key value adding line of Norilsk Nickel's business. In 2015, following the adoption of the production strategy, the Company also updated its sales strategy with a focus on enhanced positioning in end consumer markets to ensure long-term efficiency of sales. The strategy also relies on added value as a key performance indicator to measure sales efficiency.
In 2015, Norilsk Nickel pursued its sales targets against the backdrop of a tough market environment, a significant surplus of physical nickel supply and a slowdown in global commodity and financial markets. However, the Company managed to successfully outperform its global peers in terms of average selling prices. This proved the effectiveness of Norilsk Nickel's sales network, which enabled the Company to maintain its presence in all key sales markets, along with securing profitable sales. Most products were sold to end consumers, and gaining direct access to them is one of Norilsk Nickel's top priorities.
In 2015, Norilsk Nickel further diversified its nickel sales across various industries, strengthening its share in the special alloys, galvanic plating and batteries segments. As the world's largest producer of palladium, the Company continues to implement the strategy for providing end consumers with direct access to the metal to ensure sustainable growth of the industrial use of platinum group metals and demand for them. This is achieved through long-term contracts with major customers in the autocatalyst, electronics, chemical, healthcare and other industries, with a significant share of sales based on long-term prepaid supply arrangements.
Higher sales premiums and improved liquidity are secured through Norilsk Nickel's products being registered on the world's major trading exchanges. In June 2015, a range of Company's nickel brands — SEVERONICKEL COMBINE H-1, SEVERONICKEL COMBINE H-1Y, NORILSK COMBINE H-1 — were successfully registered and listed on the Shanghai Futures Exchange (SFE). This made Norilsk Nickel the only non-Chinese producer of nickel products with its metal brands listed on the SFE. In December 2015, the London Metal Exchange also added the Company's NORILSK brand of copper produced by Polar Division of MMC Norilsk Nickel to its registered Grade A brands list.
Throughout 2015, Norilsk Nickel continued to maintain the reputation of a highly reliable supplier, placing customer confidence at the core of its sales strategy. Its customer satisfaction index with regard to the quality of products and services also remained high.
Average selling prices of metals produced by Russian enterprises from their own raw materials in 2015

| Metal | 2015 | 2014 | 2013 |
| --- | --- | --- | --- |
| Nickel, USD/t | 11,962 | 17,072 | (30%) |
| Copper, USD/t | 5,585 | 6,931 | (19%) |
| Palladium, USD/oz t | 695 | 804 | (14%) |
| Platinum, USD/oz t | 1,057 | 1,388 | (24%) |
Physical metal sales (excluding material purchased from third parties)
2015
2014
Finished products
Russian entities
Nickel, kt
197
228
Copper, kt
343
356
Palladium, '000 oz t
2,464
2,667
Platinum, '000 oz t
590
629
Finland
Nickel, kt
43
42
Semi-products
Australia
Nickel, kt
—
—
Botswana and South Africa
Nickel, kt
5
3
Copper, kt
3
2
Palladium, '000 oz t
100
78
Platinum, '000 oz t
39
31
Finland
Copper, kt
13
11
TOTAL FOR THE GROUP

Total volumes include recalculated volumes of semi-products based on the valuable components content

Nickel, kt
245
273
Copper, kt
359
369
Palladium, '000 oz t
2,564
2,745
Platinum, '000 oz t
629
660
| Polar Division | Kola MMC | Norilsk Nickel Finland |
| --- | --- | --- |
| Nickel cathodes | Nickel cathodes | Nickel cathodes |
| Copper cathodes | Copper cathodes | Nickel briquettes |
| Cobalt ingots | Cobalt cathodes | Electrolytic nickel powder |
| Cobalt oxide | Cobalt concentrate | Nickel and cobalt sulphate |
| Technical selenium | Nickel carbonyl (powder and pellets) | Nickel hydroxide and nickel hydroxycarbonate |
| Commercial lump sulphur | Precious metal concentrates | |
| Precious metal concentrates | Sulphuric acid | |
Precious metals are refined from raw materials produced by Polar Division and Kola MMC at Krasnoyarsk Gulidov Non-Ferrous Metals Plant under a tolling agreement.