Transportation and Logistics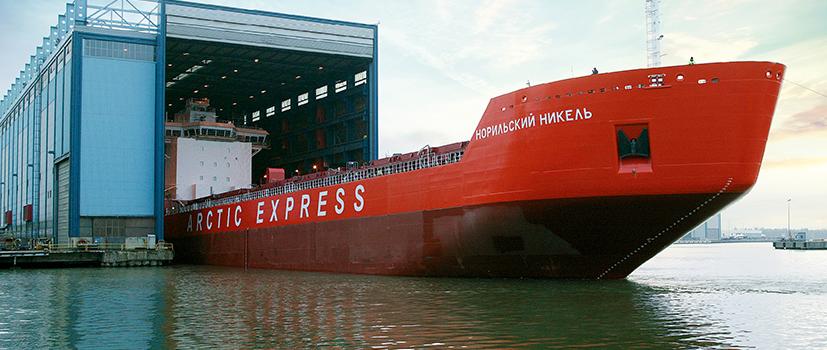 The Group operates sea and river fleets, railway transport, and an aircraft fleet. With this diverse transport infrastructure at its disposal, the Company is well positioned to offer reliable supplies to production and social facilities and make undisrupted deliveries of end products to consumers in the harsh climate of the permafrost zone and in hard-to-reach locations of the Far North.
Transport and logistics hub




Route network
Norilsk Branch of Taimyr Air Company is the only operator capable of responding to both industrial and social emergencies in the region (the Norilsk Industrial District and the Dolgano-Nenets Municipal District of the Taimyr Peninsula).
Norilsk Branch of Taimyr Air Company completed a programme of 6,947 flight hours using 13 owned medium utility helicopters (12 Mi-8T helicopters and one Mi-8MTV helicopter) and five leased helicopters (three Mi-8MTV helicopters operated by company crews and two light utility helicopters, Mi-2 and AS350 B3, operated by third-party crews) and thus met the region's air transportation needs, including:
industrial operations of the Norilsk Nickel companies (transporting shift personnel, process equipment and life supplies, air inspection of production facilities and other services);
emergency air medical services, search-and-rescue: 24/7 helicopter crew on stand-by, ready for search-and-rescue in case of an air crash within 260 km, including the Alykel Airport territory. Civil Aviation regulations require this as a condition for all air transportation in the region, including long-haul flights and Alykel Airport operations;
passenger transportation via local airlines on socially significant routes between the Dudinka administrative centre and remote hard-to-reach towns (about 7.4% of total flight hours).
Operating performance indicators
Metric
Unit
Amount
Operating performance indicators, Taimyr Air Company, Norilsk Branch
Flight hours, aircraft operated by Taimyr Air Company
hours
6,947
Passengers carried
passengers
52,977
Cargo and mail carried
tonnes
2,051
Number of aircraft operated
units
16
Operating performance indicators, Taimyr Air Company, Moscow Branch
Passengers carried
passengers
1,128,782
Cargo and mail carried
tonnes
4,630
Number of aircraft operated
units
15
Operating performance indicators, Nordavia — Regional Airlines
Passengers carried
passengers
727,625
Cargo and mail carried
tonnes
2,307
Number of aircraft operated
units
11
Development of transport and logistics infrastructure
The total investments in transport and logistics assets of the Company amounted to
26
USD mln
(incl. VAT)
With capital construction accounting for


16
USD mln


Cargo transfer terminal in Murmansk
In 2015, the third stage of development started with reconstruction of Berth No. 2. In April 2015, a railway was commissioned to connect production sites No. 1 and No. 2, which resulted in cheaper and faster intraterminal transportation. The Company purchased five new forklifts with a capacity of 3.5 t to handle copper for metal exchange purposes.
In 2016, the Company plans to draft upgrade documents for the completed Berth No. 1 and finish the reconstruction work on Berth No. 2.
Polar Transportation Branch, Dudinka Port
The Company commissioned a Liebherr portal crane, upgraded the Kirovets portal crane, and purchased equipment to upgrade the Sevastopolets-5 floating crane in 2016.
In 2016, the Company plans to continue asset capitalisation to boost operational excellence and fleet operations turnover. As part of this initiative, Polar Transportation Branch is going to purchase the following heavy equipment in 2016:
heavy frontlift loader;
semi-trailer trucks for transporting round timber;
timber loader and stacker for loading/unloading round timber;
temporary accommodation for seasonal personnel;
reach stacker with a capacity of 45 t;
special-purpose SK-3-30-d containers (300 units);
equipment sets for upgrading the Kirovets portal cranes.
In addition, in 2016 the Company will commission a fuel oil bunker barge.
OJSC Arkhangelsk Commercial Sea Port
The port has completed the reconstruction of Berth No. 2 of the Economia terminal, upgraded its equipment and acquired property from Arkhangelsk Transportation Branch.
Plans for 2016 include assembling and commissioning a Liebherr mobile crane, disassembling gantry cranes at Berth No. 1 (Economia terminal) scheduled to come on-stream in June 2016.
OJSC Yenisey River Shipping Company
As part of its fleet upgrade, the company completed the construction of the seventh and eighth barges with a carrying capacity of 3,000 t and started constructing the ninth barge. This type of towed vessels is used to transport sand for metals production processes.
The Podtesovo repair and maintenance base completed the upgrade of slipway used for ship repairs. Further improvement of onshore infrastructure capacity is underway.
Oracle Transportation Management (ОТМ)
Kola MMC put its integrated logistics and sales system into operation. The new system helps fully control shipments of finished products from the industrial facilities of Polar Branch and Kola MMC.
In 2016, the Company will continue to improve operating and analytical reporting, as well as cargo documentation. There are also plans to complete automation of traffic schedule generation for the Company's sea fleet.
The Company also plans to implement the system for automation of goods transportation logistics at OJSC Yenisei River Shipping Company and at its transshipment ports (Krasnoyarsk, Lesosibirsk). This will boost Yenisei cargo traffic transparency and allow the Company to efficiently manage and use its river fleet, while at the same time optimising operations between the river fleet and transshipment ports.