Energy and Gas Assets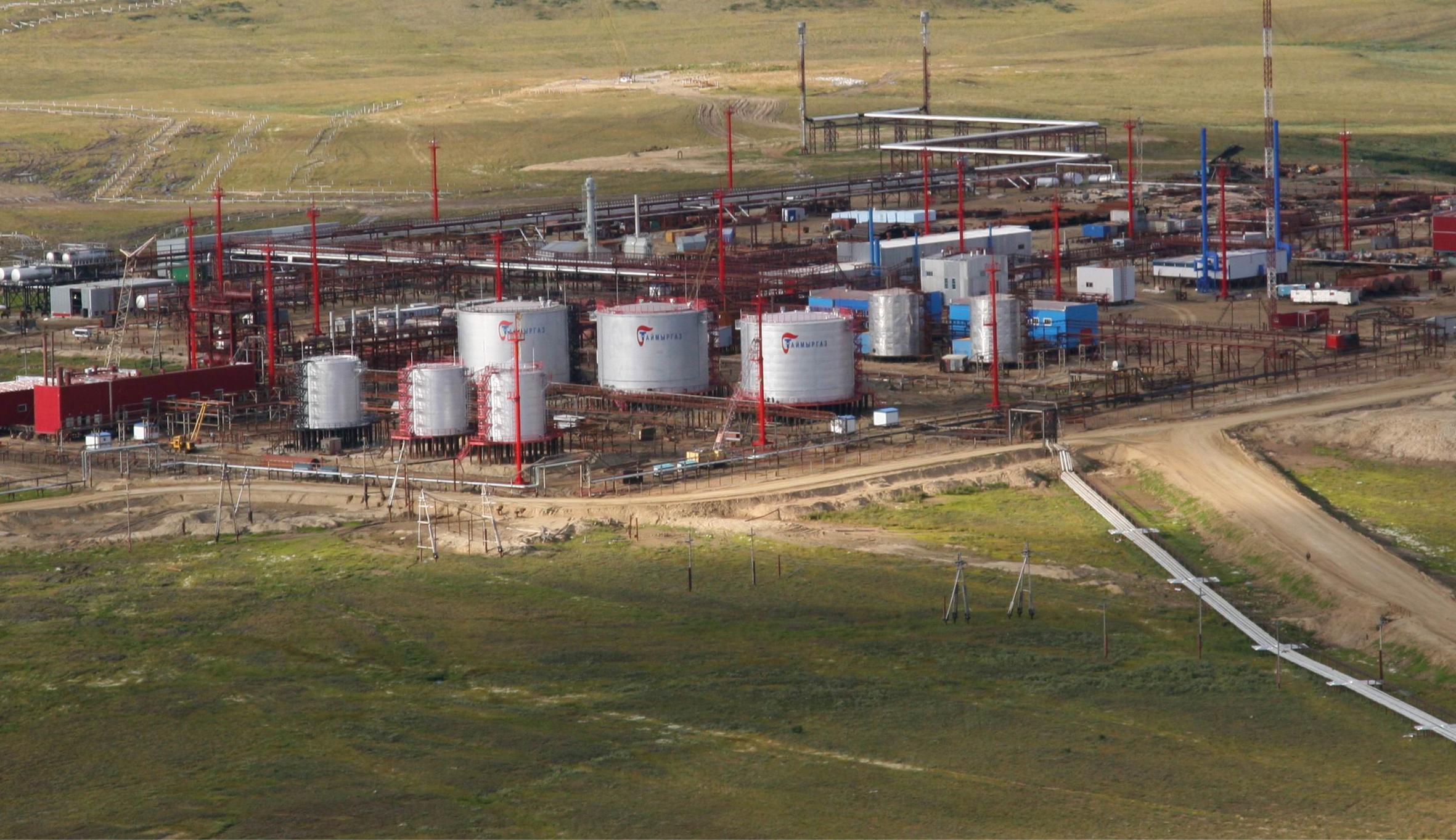 The Group's gas assets operate as a stand-alone business unit focusing on sustainable development of the entire Norilsk Industrial District. The Company views them as strategic assets, but does not include them into the core value chain.
The Company's fuel and energy division comprises the following subsidiaries and branches:



Natural gas output
3.48
bn cu m
Gas condensate output more than
117
kt
Taimyrgaz
In 2015, Taimyrgaz operated the Pelyatkinskoye Gas Condensate Field in accordance with the supply schedule. With a target gas and gas condensate output of 2,382 m cu m and 124 kt, respectively, the actual annual output amounted to 2,164 m cu m of gas and 109 kt of gas condensate.
Two wells of the Pelyatkinskoye Field (No. 461 and 862) were commissioned in 2015.
In 2015, the company commissioned a loop-line at the 0–26 km section of the Pelyatkinskoye — Severo-Soleninskoye gas trunk pipeline.
To comply with the health and safety laws and regulations, the company intends to update its current HSE management standards.
Natural gas and gas condensate output

| | 2015 | 2014 | 2013 |
| --- | --- | --- | --- |
| Taimyrgaz | | | |
| Natural gas, m cu m3 | 2,163 | 2,460 | 2,330 |
| Gas condensate, kt | 108 | 129 | 118 |
| Norilskgazprom | | | |
| Natural gas, m cu m3 | 1,100 | 1,337 | 1,601 |
| Gas condensate, kt | 2 | 2 | 3 |
Norilskgazprom
In 2015, all Norilskgazprom's facilities operated without any failures or process disruptions.
Technical diagnostics and safety reviews were carried out, with over 110 equipment items, buildings and structures, including aboveground sections of trunk pipelines, certified as safe in 2015. Targets for the year were fully met. In 2016, the company plans to obtain approximately 200 safety review certificates.
In 2016, to ensure accident-free and uninterrupted gas supplies, the company will carry on with the repairs of supports and cross-beams of field, interfield and trunk pipelines, as well as maintenance of other production facilities.
In 2016–2020, the company plans to carry out a programme to overhaul and reconstruct the Norilsk Industrial District's gas distribution networks, factoring in the needs of the chain of LPG filling stations.
NTEK
In 2015, the amount of power transmitted to the Norilsk Industrial District's grids from NTEK's HPP increased by 46% y-o-y to 4,274,705 thousand kWh, with 2014 figures resulting from an abnormally low water influx in 2013.
In the reporting year, the programme to upgrade and revamp the Norilsk Industrial District's power transmission system and replace its facilities included:
replacing seven hydroelectric units at the Ust-Khantaiskaya HPP and commissioning Stage 1 (PK-1, plant hydroelectric unit No. 4);
expanding the reception and transmission capacities of the Taimyr HPP Cascade, and routing the LEP-151 and LEP-154 power lines from the OPP-220 Opornaya (master) substation to the RP-2 Nadezhda distribution substation;
reconstructing the GPP-4 main step-down substation and ensuring uninterrupted power supplies to Copper Plant.
Bystrinsk Electric Grid Company
In April 2015, a memorandum of intent was signed with FGC UES. The document provides for the parties' cooperation in implementing the investment project to build an overhead Kharanorskaya GRES (power plant) — Bugdainskaya — Bystrinskaya 220 kV power line with 220 kV Bugdainskaya and Bystrinskaya substations. To carry out the project, a construction management company was set up. Construction works were started in September 2015, with 97 transmission towers for 220 kV overhead power lines installed as at the end of the year. The construction is to be completed by March 2017, and the line is to be commissioned in August 2017.