Information on securities
Share capital
Since 2001, MMC Norilsk Nickel's shares have been listed on Russian stock exchanges (RTS and MICEX). At present, the shares of MMC Norilsk Nickel are on the First Level quotation list of the MICEX Stock Exchange (part of Moscow Exchange) and also admitted to trading at Saint-Petersburg Exchange.
As at 31 December 2015, MMC Norilsk Nickel's share capital comprised 158,245,476 ordinary shares with a par value of 1 rouble each.
Ticker symbols
Trading platform
Financial Instrument Global Identifier
Reuters Instrument Code
Moscow Exchange
GMKN RN

GMKN RХ
GMKN.MM

GMKN.RTS
Saint-Petersburg Exchange
MMC Norilsk Nickel share price and trading volume (MOEX)
Date
Share price, RUB
Volume, shares
Min
Max
End of period
2011
4,047
8,417
4,950
154,291,682
2012
4,610
5,939
5,617
89,275,016
2013
4,106
6,089
5,397
76,120,053
2014
5,140
10,805
8,162
75,766,353
2015
8,590
12,106
9,173
59,126,636
Q1
8,590
12,106
10,500
12,646,659
Q2
9,005
10,680
9,473
15,081,223
Q3
9,022
11,206
9,398
15,096,277
Q4
8,780
9,783
9,173
16,302,477
Source: Bloomberg
Buy-back
In 2015, the Board of Directors resolved to launch a share buy-back programme for a total of up to USD 500 million completed by the year-end. Under the programme, 1,250,075 shares were bought back from 1 July to 31 December worth of USD 196 m.
Share capital structure
The Company's major shareholders are Olderfrey Holding Limited, UС Rusal Plс and Crispian Investments Ltd. owning collectively 64% of the Company's share capital, while the remaining 36% is free float owned by institutional and private investors from Russia, Europe, Asia and the USA.
As at 31 December 2015, there were 30 legal entities (including 3 nominee shareholders) and 40,995 individuals listed in the register.
American depositary receipts
Since 2001, the Company has been maintaining an American depositary receipt (ADR) programme. Shares are converted into ADRs at the ratio of 1:10. Depositary services for ADR transactions are rendered by the Bank of New York Mellon, while custody services are provided by VTB Bank. ADRs are traded on the US OTC market, and in the electronic trading system of OTC markets of the London and Berlin stock exchanges.
As at 31 December 2015, the total number of ADRs issued against Norilsk Nickel's shares was 659.482.150 accounting for 41.67% of the authorised capital.
The Company discloses information to ADR holders in English as per Rule 12g3-2(b) of the US Securities Exchange Act of 1934.
ADR ticker symbols
Trading platform
Financial Instrument Global Identifier
Reuters Instrument Code
IOB, London Stock Exchange — London, UK
MNOD LI
NKELyq.L
OTC Market — New York, USA
NILSY US

NILSY UV
NILSY.PK
Frankfurt Stock Exchange — Frankfurt, Germany
NNIA GR

NNIA GF
NKELy.F
ADR price and trading volume on the LSE OTC market
Date
Share price, RUB
Volume, shares
Min
Max
End of period
2011
15.0
27.9
15.3
2,027,267,723
2012
14.4
20.5
18.4
1,168,251,876
2013
12.4
20.3
16.6
1,022,238,584
2014
14.2
21.5
14.2
1,166,038,332
2015
12.4
21.6
12.7
748,638,706
Q1
14.2
19.0
17.8
195,304,392
Q2
16.9
21.5
16.9
181,661,759
Q3
14.1
17.0
14.4
172,934,353
Q4
12.4
15.8
12.7
198,738,202
Source: Bloomberg
Stock indices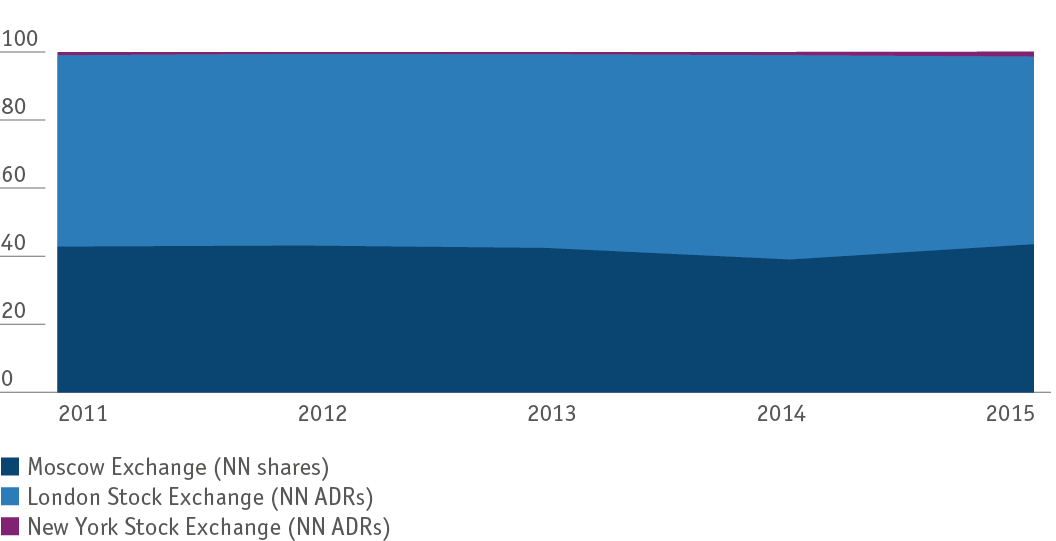 Eurobonds
Rouble bonds

| Instrument | Exchange bonds, BO-05 |
| --- | --- |
| Issuer | MMC Norilsk Nickel |
| ISIN | RU000A0JW5C7 |
| Offering date | 19 February 2016 |
| Maturity date | 06 February 2026 |
| Offering amount | RUB 15 bn |
| Coupon rate | 11.60% |
| Coupon period | Each 182 days starting from the offering date |
Eurobonds

| Instrument | Eurobonds 2018 (LPN) | Eurobonds 2020 (LPN) | Eurobonds 2022 (LPN) |
| --- | --- | --- | --- |
| Issuer | MMC Finance Ltd | MMC Finance Ltd | MMC Finance Ltd |
| ISIN | XS0922134712 | XS0982861287; US55314WAA27 | XS1298447019; US55314WAC82 |
| Offering date | 30 April 2013 | 28 October 2013 | 14 October 2015 |
| Maturity date | 30 April 2018 | 28 October 2020 | 14 October 2022 |
| Offering amount | USD 750 m | USD 1.000 m | USD 1.000 m |
| Coupon rate | 4.375% | 5.55% | 6.625% |
| Coupon dates | 30 October / 30 April | 28 October / 28 April | 14 October / 14 April |
| Issue rating | BBB—/Ba1/BBB— | BBB—/Ba1/BBB— | BBB—/Ba1/BBB— |