Company's history
Key Events of 2015
Disposal of non-core assets: the Company sold its minority stake in Inter RAO and the Africa-based Tati Nickel Mining Company.

Norilsk Nickel signed an agreement with a consortium of Chinese investors to sell a 13% stake in Bystrinsky Mining and Processing Plant for a total consideration of USD 100 m.

The Company successfully completed the offering of its seven-year Eurobonds worth some USD 1 bn, with the book oversubscribed by four times.

The Talnakh Concentrator project in Norilsk saw the commissioning of Stage 1 featuring new floatation equipment.
Norilsk Nickel has celebrated its 80th anniversary...
80 years of exploring the Russian Arctic
Vladimir Putin, President of the Russian Federation, commended MMC Norilsk Nickel's team for their valuable contribution to the development of the metals industry and excellent operating results. The Government of the Russian Federation congratulated Norilsk Nickel on its 80th anniversary, expressing gratitude for the Company's outstanding contribution to the development of the Russian metals industry.
The Company's History
1935
Foundation of the Company:
the USSR Council of People's Commissars resolved to construct Norilsk Plant.
1939
First semi-products: premier batches of copper-nickel converter matte were delivered in Norilsk, whereas Monchegorsk's Severonickel Plant started production of crude nickel.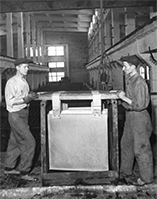 1945
Discovery of the Zhdanovskoye Field on the Kola Peninsula and resumption of full-cycle production at Severonickel Plant following World War II.
1953
Norilsk was granted the status of a town. Norilsk Plant produced 35% of nickel, 12% of copper, 30% of cobalt and 90% of PGM from the Soviet Union's total metal output.
2001
The Norilsk Mining Company was renamed MMC Norilsk Nickel. Holders of 96.9% of RAO Norilsk Nickel shares consented to exchange them for MMC Norilsk Nickel shares. Since 2001, the Company's shares have been listed on the RTS and MICEX stock exchanges. In June, the Company started issuing Level-1 American Depositary Receipts (ADRs) for MMC Norilsk Nickel's shares.
1993
Transformation of State Concern into RAO Norilsk Nickel, and further restructuring of RAO Norilsk Nickel into Norilsk Mining Company in 1997.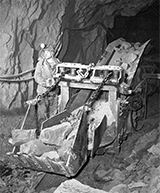 1960 — 1970
Discovery of rich ore fields and prospective natural gas deposits in Talnakh. Start of construction works to build mines and the town of Talnakh on the Taimyr Peninsula.
2006
MMC Norilsk Nickel spun off its gold-mining assets. After the Company's reorganisation, OJSC Polys Gold was established and received 100% of CJSC Polys shares, consolidating all of MMC Norilsk Nickel's gold-mining assets.
2013
The Company presented its new development strategy focusing on Tier 1 assets and unlocking of the full resource base potential. Under this new strategy, the Company upgraded its processing capacities and consolidated smelting and refining operations from its most advanced facilities.
2014
The Company sold its gold ore assets, including the North Eastern Goldfields Operations (NEGO) and nickel assets (Lake Johnston, Cawse, Avalon, Black Swan, Silver Swan) in West Australia, and stakes in energy companies.
2015